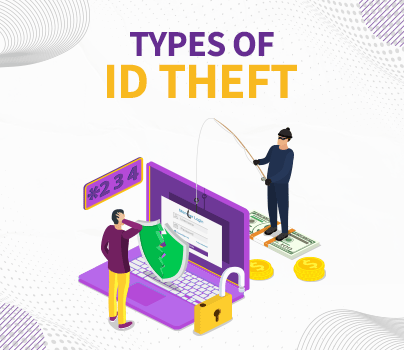 Identity Theft- Types of ID theft practices in Pakistan
Identity theft is when someone uses a person's sensitive information- name, ID number, Signature, and credit card.- primarily to impersonate or steal from them. It's getting prevalent as businesses move towards digital growth and as the masses become more and more comfortable with personal and professional online transactions. 
Identity theft criminals may perform a variety of different actions after obtaining your personal information which may include draining bank or investment accounts, opening new credit lines, getting utility services, stealing refunds, using insurance information to get medical treatments, hacking social media accounts to compromise personal information or use the saved payment method, issuing a new SIM card under someone's name and commit criminal activity, or providing a fake name and address to the police upon getting arrested. Organizations and individuals duped or defrauded by the identity thief may also suffer dire consequences and losses to an extent that proves them as criminals or accomplices.
In this new reality, it's wise to take steps to prevent malicious humans and software from using your personal information leading to a significant loss. Here's what you need to know to reduce the chances of falling a victim, spot warning signs, and take quick action to minimize damage.
Types of identity theft and the warning signs
Credit Identity Theft
– Credit card bills may suddenly stop arriving. 
– Receiving a credit card you never applied for
– Receiving bills of spending history you do not recognize 
– Your loans are getting denied for no apparent reason
– You may get legal notices or a court judgment against you.
– You may receive fraudulent phone calls asking for sensitive bank account or credit/debit card information
– You or Your underage child may be getting offers of credit cards or phone calls about late payments or debt collections,
Criminal Identity Theft
– Someone may impersonate you and commit a crime under your name or using your SIM card (for example, mugging or even a terrorist activity), resulting in warrants issued in your name, penalization, arrests, and prison time.
– The police or other investigation bureau may detain you for unclear reasons.
– Your new vehicle's number plate is in use even before it is assigned or has a suspicious usage history
– Someone may be using Your or Your Child's ID or phone number even before it was assigned to you.
Computerized National Identity Card (CNIC) identity theft
– CNIC is a crucial document, and the ID thief might use it in: 
Account opening at banks,
obtaining a credit/debit card
obtaining official documents such as
 passport or marriage certificate
preparing property documents,
obtaining a mortgage and other types of
 financial facilities
Medical Identity theft:
– You may face claims or payments on your medical insurance plan. This implies that someone is enjoying health care benefits in your name. 
Synthetic Identity Theft:
– Someone may breach your social media accounts, carrying business transactions in your name or your business's name, leading to compromised credibility, loss of clientele, and overall financial loss
– Someone may pretend to be you through another account, getting people to communicate with them, carrying out fraudulent activity, leaving you to take the responsibility later on.
As fearful as these occurrences may seem, personal and professional online presence has become the need for time. Technologies like Idenfo and Idenfo Direct relentlessly work to make the digital world safer for people and businesses by bringing in new and improved features- screening systems, KYC solutions, and Face recognition, to name a few.