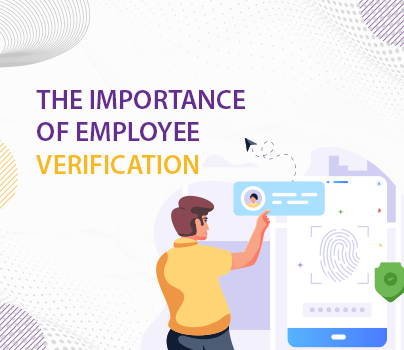 The corporate world is so time-sensitive that no one can afford to lose any time, whether it is searching for talent, onboarding, training, or termination. It becomes even more significant when the workforce keeps shuffling, leading to pending projects, approaching or missed deadlines, ultimately dissatisfied clientele, and disrupted work culture.
Organizations do not have the time or resources to verify every employee they recruit. Additionally, some employees do not make it to permanent positions after probation, so the time and cost invested in that employee's verification is wasted, which is one of the reasons employers don't consider this a sound investment.
Let's examine why employment verification is necessary and how it simplifies the onboarding process.
Catching Lies
About 80% of the employees lie on their resumes during interviews. If the lies are about a particular competency or a language they cannot speak, it still does not guarantee they will be rejected. However, if an individual is supposedly lying about their identity, previous employment, or credibility, it poses harm to the organization.
For the applicant, it may be a harmless attempt to deceive to land a job, but the organisation risks its reputation and credibility by letting an unverified employee work with them.
Verification platforms like Idenfo Direct play a vital role in employee verification by tracking a person's identity details, qualifications, and employment history. Therefore, it's quicker to catch a lie as soon as it is brought up, be it about speaking several languages or having a suspicious past.
Saves Time
Time is scarce, and even more so in the corporate world. The time taken during traditional employee verification is either an investment or a loss. If the employee resigns or gets terminated before the process can be finished, nothing could trade back the time and money. If the employee seemingly fits well into the organisation but later commits a crime, compromises clientele, or steals from the company, it is a significant threat. The solution is a simpler and faster verification platform. Idenfo Direct is designed keeping in mind the value of time, which is why verifying employees is a matter of seconds.
Saves Money
No organisation wants to lose money while searching for its next "employee of the year." And they don't have to because it makes less sense to invest money in people who are not team players. However, if the circumstances call for recruiting a highly experienced, high-paying veteran, then the organisation should run all checks to ensure the new hire will be a true professional with a sound background. The organisation would go to all lengths to hire and retain such talent. Aside from saving time and verifying in seconds, Idenfo Direct is a highly cost-effective solution compared to traditional methods.
Helps Avoid Legal issues
Negligence in hiring can cost an organization millions, and their years' worth of reputation gone in a second. Imagine opening doors to an unethical employee with no qualms about the company's image and operating procedures. Knowing little details about an employee's previous records would help make you the right hiring decision. Idenfo Direct covers criminal checks in their verification and highlights the smallest of such details.
Idenfo Direct is a verification and screening platform where users can verify their employees, clients, tenants, and everyone that is involved with an organization for professional or financial operations. The platform simplifies the authentication process while onboarding, signing a partnership agreement, or making a financial investment. With false claims and ID theft on the rise, sparing a few minutes to verify an individual's profile will benefit the organisation in the long run.